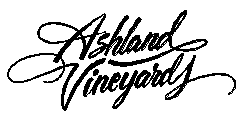 "The Wines That Make Ashland Famous!"™
Group Tours &
Conference Specials

Discover the most friendly, informative, and affordable vineyard and winery in southern Oregon. Located conveniently off I-5 Exit 14 just around the corner from the Windmill Inn (follow the signs), it is the closest winery from the City of Ashland and the Oregon Shakespeare Festival--just 2 miles east via East Main Street.
Wine and wine-related gifts at discount prices for your conference.
Evening tours and tasting.
Catered meals, picnics, and winemaker's dinners on our lovely grounds.
Call to book group tours in advance. We cater to your special needs.
The element that sets us apart from other wineries is our friendly, approachable style of southern Oregon hospitality. We can easily accommodate groups of up to 50 people in our tasting room. A tour of the winery and tasting of our affordably priced, ultra-premium wines is conducted by the owner. Group members have an opportunity to purchase any of the wines at our tasting room where you'll find the most affordably priced wines and with the best discounts offered. Group tours and tasting are by advance appointment only. There is a minimal per-person fee for groups.
Dates and Hours of Operation:
11 - 5 Tuesday through Sunday (April through October)
November, December, January and February--Call ahead for appointment

2775 East Main Street, Ashland OR 97520
(541) 488-0088
wines@winenet.com